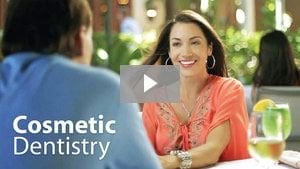 Our smiles are as unique as our fingerprints, so it's no surprise that they are often the first feature someone notices. After all, who can forget a white, healthy-looking smile?
Of course, there are so many issues that can affect the overall appearance of your smile. Even though your smile may be healthy it may not look like it at first glance. Fortunately, cosmetic dentistry has grown so much over the decades, allowing us to offer everything from minor tweaks to full makeovers.

Through the latest techniques and technologies available, we can treat teeth that suffer from:
Discolorations and stains
Chips and cracks
Unevenness
Misshapen or worn teeth
Crowding
Crookedness

Through cosmetic dentistry we can do everything from reshaping teeth to closing gaps between teeth to altering the shape of your gums. While subtler changes to your smile may easily be completed with options like dental bonding, tooth reshaping and contouring, or in-office teeth whitening, remember that cosmetic dentistry can also tackle more challenging issues.
While many people consider ways to change the shape, color or size of their teeth, those with gum recession due to gum disease or other problems may be looking for ways to recontour gums. In the past, gum grafting was the surgery of choice; however, this often results in an extensive recovery time, and sometimes more than one procedure is required to treat the issue.
A smile makeover goes beyond simply responding to dental problems as they arise. It's a comprehensive smile-rejuvenation plan that's uniquely suited to your own facial features and aesthetic preferences. The results can be quite dramatic — both in terms of how your will look and how you will feel. These are the major steps involved:
Take a look. The makeover process is all about giving you the smile of your dreams. So take a good look at your smile and note what you like and don't like about it. Some questions you can ask yourself are:
Are your teeth as white as you'd like them to be?
Are any teeth chipped, cracked or worn?
Does your smile have a gummy appearance?
Do your teeth seem too large or small?
Do you like the alignment and spacing of your teeth
Are you self-conscious about crookedness or gaps?

Services Include:
Dental bonding and reshaping
Teeth whitening
Dental veneers
Dental implants
Dental filling
Inlays/onlays

Remember, beauty is in the eye of the beholder, and that's you! Some people want their smile to look "perfect" — and to them, that means completely straight, uniformly white teeth. Others like a slightly more natural look, and are not displeased by slight gaps or shade variations. There are lots of decisions to make, but don't worry — dentists are skilled at helping you sort it all out!
Share your thoughts. Communication is an extremely important part of the smile makeover process. At the first makeover consultation, it helps if you describe what you would like to change in as much detail as possible. Bring along pictures of smiles you like, or of how your own smile used to look. Your makeover dentist will have some thoughts to share with you as well because dentists are trained to look at smiles in terms of facial balance.
Make a plan. An important part of planning a smile makeover is a comprehensive dental exam. Cosmetic Dentistry offers an amazing array of lifelike tooth restorations and treatments; but first, any conditions in your mouth that may jeopardize a good result must be taken care of. If your teeth are discolored, for example, the reason must be determined. You may have an underlying dental disease that needs to be treated before whitening your teeth; otherwise, the whitening may not last. Likewise, if you often drink red wine or other beverages that stain, you might do better with porcelain veneers than bleaching treatments.
Try it out. A smile makeover is an investment that is meant to last. That's why many of the procedures performed are irreversible. So if you are contemplating some changes, it's a great idea to try them out before you fully commit to them. There are many ways to preview the results: computer imaging, 3-D models, and even placing temporary restorations on your teeth so you can see what the final results will look and feel like in your own mouth. This also allows a fine-tuning of the makeover plan.
A "trial smile" is a great way to eliminate unknowns in the makeover process. But when it's all done, there's still one thing you may not be prepared for: how great it feels to flash your new smile to the world!
Ready for a new smile with our Cosmetic Dentistry treatments?
call our Maspeth, NY dental office at (718) 429-6931
For more information or to book an appointment!