Have you been considering dental implants but aren't sure if they're the right option for you?

Implants offer benefits that other tooth replacement options don't. The professionals at Fitzsimons & Hagan Dentistry share some important facts about dental implants.
Dental implants offer a permanent solution
Because your implant integrates with the bone in your jaw, it becomes a permanent part of your mouth.

During the first step in the implant process, your dentist creates a small hole in your jaw and places a titanium implant inside it. Titanium is the preferred implant material because the metal easily bonds to surrounding bone. Once the implant integrates with your jawbone, it provides a secure foundation for the crown that will be attached to it. Osseointegration usually takes about three to six months. After the implant fuses with the bone, your dentist will add an abutment, which will connect your new crown to your implant.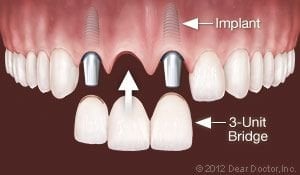 Replace Multiple Teeth — When you have more than one tooth missing, implants provide an ideal replacement mechanism. You don't even need one implant for every missing tooth. Instead, implant teeth can act as supports for fixed bridgework. For example, if you are missing three teeth in a row, we can place two implants, one on either side of the gap, and a crown in between that has no implant underneath. That way, you won't need to use any of your remaining natural teeth as bridge supports, which could weaken them and make them more susceptible to decay.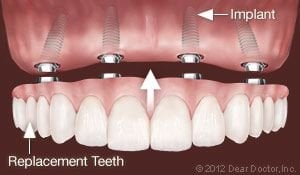 Replace All Teeth Permanently — Implants can support an entire arch of upper or lower replacement teeth that are fixed into the mouth and are never removed. Sometimes the new teeth can be supported by as few as 4 implants. It's comparable to the structure of a table, which only needs 4 legs to hold it up. In cases where jawbone density and volume have deteriorated, 5 or 6 implants might be needed to support a row of 10 to 12 teeth. Dental implant replacement teeth protect your jawbone, won't slip, and should last a lifetime.

Dental implants provide important benefits
Your roots don't just anchor your teeth in your jaw. They also provide the constant stimulation your jawbone needs to stay strong. When you lose a tooth, the underlying bone begins to shrink or weaken because it no longer receives any stimulation. Eventually, facial sagging can occur due to changes in the jawbone, particularly if you've lost several teeth. Implants help keep your jawbone strong and prevent shrinking.

How Long Will Dental Implants Last?
For patients of a certain age, a dental implant has a good chance of lasting for a lifetime. The crown part of the implant can last for up to 15 years before it may need to be replaced. Seeing your dentist at least two times every year for professional cleanings and becoming meticulous about at-home dental care will ensure that the implant (and your other teeth) stays strong and healthy.
Do you need Dental Implants or would like to learn more?
Then call our Maspeth office in Queens at (718) 429-6931
For more information or to book an appointment!