Dr. Fitzsimons and Dr. Hagan are dedicated to giving back in their local community and around the world.

Give Kids a Smile Day
Since 2022, Fitzsimons & Hagan Dentistry has held their annual Give Kids a Smile Day in February. We provide free dental screenings and dental care to dozens of children as part of the American Dental Association (ADA) program that brings dentists and other volunteers together to provide screenings, treatments, and education to underserved children throughout the United States. Give Kids a Smile has two purposes: to help children get the dental care they need and to raise awareness that our children deserve a better healthcare system that addresses their dental health.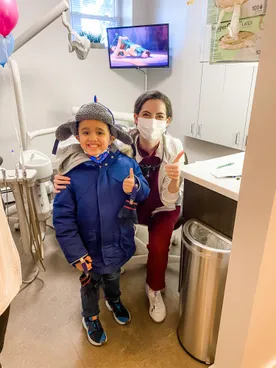 At the last event, Fitzsimons & Hagan Dentistry provided more than $30,000 worth of dental work in a single day. We provide FREE exams, cleanings, fluoride varnish, and sealants at this yearly event. If you would like to help us spread the word in your community, please email us ([email protected]) for flyers and more information.
To stay connected and find out when our third annual Give Kids a Smile Day is happening, please follow us on Facebook or Instagram @FandHDentistry.
Project Smile Makeover
In 2020, we began our first annual Project Smile Makeover. We reached out to our community, on social media, and within our patient base to find one deserving person to have a smile makeover, all expenses covered. Carleen was recommended by a friend. We couldn't think of anyone more deserving.
If you or someone you know is interested in entering our Project Smile Makeover competition, please email us at [email protected]. We will be taking applications for our next Project Smile Makeover in Summer 2021. Follow us on Facebook and Instagram to see all our Project Smile Makeover updates.
Global Philanthropy
In September 2019, Dr. Fitzsimons and Dr. Hagan traveled to the Dominican Republic for one week to provide over $100,000 worth of life-changing dentistry for free. It was an incredible and exhausting week, but they wouldn't trade the experience for the world!
Dominican Republic is a greatly underserved area in terms of dental care. Throughout the week, Dr. Fitzsimons and Dr. Hagan provided all types of oral surgery. They were so grateful to make such a strong impact in the lives of the extremely needy patients living there.
While in dental school, Dr. Hagan also spent a week volunteering free dentistry in Jamaica, serving hundreds of patients along with her dental school team. Giving back, both locally and globally, is fundamental to our mission here at Fitzsimons & Hagan Dentistry.
Local Community
Lastly, Dr. Fitzsimons and Dr. Hagan take great pride in giving back to their community, right here in Maspeth, Queens. Clothing drives, scholarships to high school students, free ice cream parties, and "Whiten for Charity" are just some of the events we have held. We have donated to the Knights of Columbus, Transfiguration-St. Stanislaus Kostka Parish, St. Margaret's, and many other non-profits. As Queens natives, they love serving the community where they grew up. We shop local and support our neighbors, from restaurants and salons to schools. Be sure to follow us on both Facebook and Instagram so you don't miss out!